Saturday, April 24, 2010
The Man Who Fell to Earth is a British science fiction film directed by Nicolas Roeg, based on the 1963 novel of the same name by Walter Tevis, about an extraterrestrial who crash lands on Earth seeking a way to ship water to his planet, which is suffering from a severe drought. The film maintains a strong cult following for its use of surreal imagery and its performances by David Bowie (in his first starring film role), Candy Clark, and Hollywood veteran Rip Torn. The same novel was later remade as a less-successful 1987 television adaptation.
Thomas Jerome Newton (David Bowie) is a humanoid alien who comes to Earth from a distant planet seeking a way to bring water back to his home planet, Anthea, which is experiencing a terrible drought.
Newton uses the advanced technology of his home planet to patent many inventions on Earth, and rises to incredible wealth as the head of a technology-based conglomerate, World Enterprises Corporation, aided by leading patent attorney Oliver V. Farnsworth (Buck Henry). Secretly, this wealth is needed to construct his own space vehicle program in order to ship water back to his planet...
Download links: 1 2 3 4 5 6 7 8
Tuesday, April 13, 2010
Ōdishon
is a japanese horror film directed by Takashi Miike and starring Ryo Ishibashi and Eihi Shiina. It is based on a Ryu Murakami novel of the same title. Over the years, the film has developed a cult following.
Shigeharu Aoyama, a middle-aged widower who lost his wife to an illness seven years prior, is urged by his 17-year-old son, Shigehiko, to begin dating women again. Shigehiko is somewhat doubtful of his father's love life, but plans to move out when he finishes school and does not want his father to be alone. Aoyama's friend and colleague, Yoshikawa, a film producer, devises a plan to hold a mock-audition, in which young, beautiful women would audition for the "part" of Aoyama's new wife, under the impression that they are auditioning for a new film, but actually so Aoyama can marry one of the finalist contestants...
Download links: 1 2 3 4 5 6 7 8
Baraka is a Todd-AO (70 mm) non-narrative film directed by Ron Fricke.
The film is often compared to Koyaanisqatsi, the first of the Qatsi films by Godfrey Reggio of which Fricke was cinematographer. Baraka's subject matter has some similarities—including footage of various landscapes, churches, ruins, religious ceremonies, and cities thrumming with life, filmed using time-lapse photography in order to capture the great pulse of humanity as it flocks and swarms in daily activity. The film also features a number of long tracking shots through various settings, including one through former German concentration camps at Auschwitz and Tuol Sleng (in Cambodia) turned into museums honoring their victims: over photos of the people involved, past skulls stacked in a room, to a spread of bones. In addition to making comparisons between natural and technological phenomena, such as in Koyaanisqatsi, Baraka searches for a universal cultural perspective: for instance, following a shot of an elaborate tattoo on a bathing Japanese yakuza mobster with one of Native Australian tribal paint.
The movie was filmed at 152 locations in 24 countries: Argentina, Australia, Brazil, Cambodia, China, Ecuador, Egypt, France, Hong Kong, India, Indonesia, Iran, Israel, Italy, Japan, Kenya, Kuwait, Nepal, Poland, Saudi Arabia, Tanzania, Thailand, Turkey, and the United States. It contains no dialogue. Instead of a story or plot, the film uses themes to present new perspectives and evoke emotion purely through cinema. The film was the first in over twenty years to be photographed in the 70mm Todd-AO format.
The title Baraka is a word that means blessing in Arabic. The score by Michael Stearns and featuring music by Dead Can Dance, L. Subramaniam, Ciro Hurtado, Inkuyo, Brother and David Hykes, is noticeably different from the minimalist one provided by Philip Glass for Koyaanisqatsi. The film was produced by Mark Magidson, who also produced and directed the film Toward the Within, a live concert performance by Dead Can Dance. A sequel to Baraka, Samsara, is planned to be released in 2010.
Download links: 1 2 3 4 5 6 7
Saturday, April 3, 2010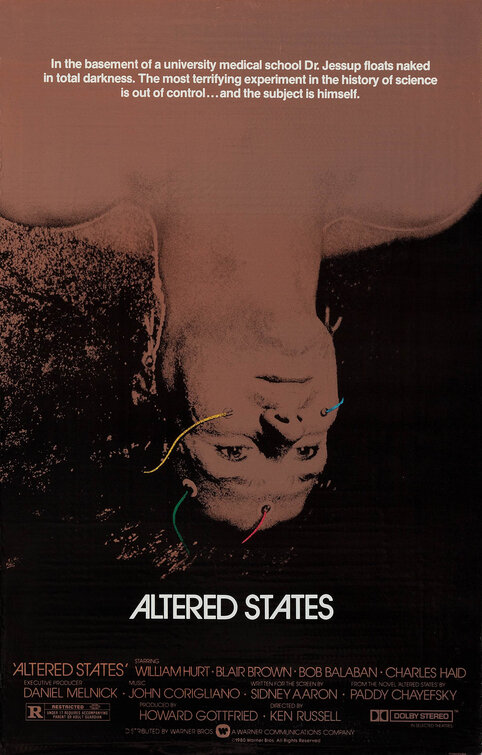 Altered States
is a science fiction film adaptation of a novel by the same name by playwright and screenwriter
Paddy Chayefsky
. It was the only novel that Chayefsky ever wrote, as well as his final film. Both the novel and the film are based on John C. Lilly's sensory deprivation research conducted in isolation tanks under the influence of psychoactive drugs like ketamine and LSD.
The film was directed by
Ken Russell
and starred William Hurt in his screen debut. It also starred Blair Brown (as Emily Jessup), Charles Haid and Bob Balaban. It additionally featured the film debut of Drew Barrymore. The film score was composed by classical composer John Corigliano (with Christopher Keene conducting) and was nominated for an Academy Award. The film also received an Oscar nomination for Sound, losing to The Empire Strikes Back.
Download links: 1 2 3 4 5 6 7 8